Desert Essence is a brand with decades of tradition, which offers exclusively conditioning products inspired with wealth of desert. As a first American brand introduced tea tree oil and jojoba oil. Today, they offer organic cosmetics, which weren't animal tested, and among them coconut shampoo. What is this product like?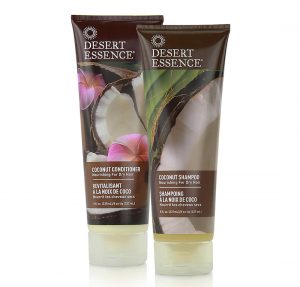 Coconut oil is great for hair because it has rich composition and complex properties. If you wonder, how to use coconut oil, then you should also ask yourself what to combine coconut oil with to enhance its properties. Desert Essence knows the answer to it, that is why they developed shampoo formula based on coconut oil with 6 additional vegetable extracts, 3 vegetable oils and essential oil with fennel.
The composition of coconut shampoo Desert Essence is extraordinarily rich. Before we move to discuss properties of the coconut oil and other active ingredients, we should mention that Desert Essence wasn't animal tested, it doesn't contain parabens, SLS, artificial colourants, fragrances and other harmful substances. It is 100% safe and organic product, which:
– ensures intensive moisture of dry and damaged hair,
– smoother hair and restores their natural softness and gloss,
– leaves hair in a great condition, healthy and elastic.
COCONUT OIL – high quality coconut oil penetrates hair structure and fills deficits in cells with nourishing ingredients. Coconut oil repairs hair cuticles, protects streaks against damages and split ends. Price of coconut oil is high, and its properties are complex, so no wonder that Desert Essence chose it as a base for their shampoo.
VEGETABLE EXTRACTS – coconut shampoo from Desert Essence is rich in natural vegetable extracts with multidimensional properties:
– rosemary strengthens hair roots and protects fibres,
– American witch-hazel counteracts dandruff and provides gloss,
– burdock root strengthens hair and regenerates damages,
– yarrow soothes inflammations and makes hair soft,
– aloe vera deeply moisturises and eliminates hair loss problem,
– black elder blossom deeply regenerates hair structure.
VEGETABLE OILS – besides organic coconut hair shampoo was enriched with additional oils, which enhance properties of coconut oil:
– jojoba oil nourishes and softens hair,
– olive oil regenerates,
– Shea butter moisturises and eliminates brittleness.